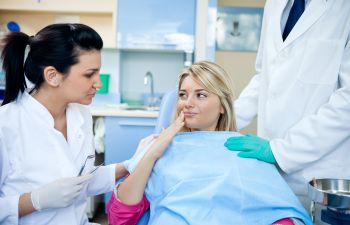 If you're like most people, you probably don't want to think about your wisdom teeth too much until they start causing problems. But in order to catch any issues early and deal with them more easily, it helps to know what the signs of impacted wisdom teeth are. Here are some of the most common warning signs that you or your teen may have impacted wisdom teeth.
Sore or Swollen Gums
Are your gums sore, swollen, or irritated in the back of your mouth? Does it feel like food is always getting caught behind your back teeth? You might have an erupting or partially-impacted wisdom tooth.
Jaw Pain and Swelling
Some people experience pain or discomfort in their jaws, while others simply notice a difference in how their mouth feels when it's closed. The extra pressure of impacted wisdom teeth inside of your gums and bone can lead to inflammation or discomfort closer to your jaw joints. In most cases, swelling or discomfort tends to come and go at first. But over time the discomfort becomes steady and persistent.
Teeth Moving or Shifting Out of Alignment
The pressure of wisdom teeth can cause the neighboring teeth to shift out of place.  If you or your teen previously wore braces, the changes in your bite alignment can be a major concern. Unless addressed, impacted wisdom teeth may continue to push on your smile and lead to crowding.
Wisdom Teeth Consultations
If you're experiencing symptoms of impacted wisdom teeth, consider making an appointment with Torrance Oral Surgery and Dental Implant Center right away. Limited appointments are still available now through the end of the year.
Posted on behalf of Torrance Oral Surgery Center
23451 Madison St #120
Torrance, CA 90505
Phone: (310) 373-0667