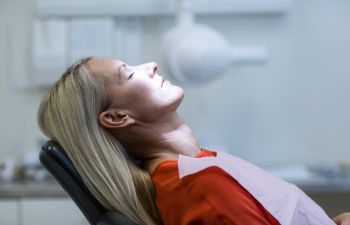 Oral surgery encompasses a wide range of procedures from wisdom teeth removal to jaw surgery. We understand the hesitations most patients experience when it comes to these more sensitive treatments. That's why at Torrance Oral Surgery and Dental Implant Center, we offer safe in-house sedation options to help our patients feel as comfortable as possible during their appointment.
Choose From 3 Sedation Options
We offer 3 different sedation techniques to our patients to ensure they don't feel a thing during their surgery appointment.
Nitrous Oxide – Nitrous Oxide, or laughing gas, is the mildest way to keep our patients nice and relaxed. It is given throughout the appointment to relieve nervousness and anxiety and promote a general calming feeling.
IV Sedation – IV Sedation is a moderate sedative given to the patient through an injection into the bloodstream. This allows the individual to feel completely at ease, almost as if they have slept through the appointment. The sedation needs time to wear off, so some of that sleepiness may persist after the appointment.
Oral Conscious Sedation – Oral conscious sedation is an oral medication that is given to our patients to help them relax and numb their senses. It is usually taken before coming to the office, so it is necessary to have someone available to drive to and from the appointment with you. The effects last for a few hours, so you'll feel drowsy for a bit afterward.
If you need oral surgery of any kind, trust Torrance Oral Surgery and Dental Implant Center to provide you with friendly, safe, and comfortable care. Call our office to book an appointment today.
Posted on behalf of Torrance Oral Surgery Center
23451 Madison St #120
Torrance, CA 90505
Phone: (310) 373-0667