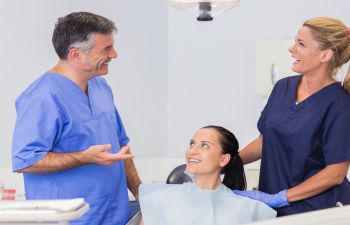 After your tooth extraction in Torrance, California you'll likely want to rinse your mouth to freshen up and remove any excess blood and other residue. Unfortunately, it's not recommended that you rinse your mouth for at least 24 hours after to your procedure.
Why Can't You Rinse Your Mouth?

Rinsing your mouth immediately after tooth extractions can cause the blood clot that forms to become dislodged. When this occurs, a dry socket forms, which is a very painful post-op condition. Rinsing prematurely can cause other complications like drying out the extraction site and preventing a clot from forming.

What You Can Do Instead

We understand that not being able to rinse your mouth may not be ideal. As an alternative, you can use a wet gauze to gently wipe the areas that you'd like to clean.

How To Rinse Your Mouth

After 24 hours have passed you can rinse your mouth, use a homemade mixture of 1/2 teaspoon table salt and 8oz. of warm water. Most commercial mouthwashes are too harsh to use post-surgery. This saltwater combination is safe enough to use every few hours throughout your healing time.
When you swish, do so gently. Vigorous rinsing can dislodge the blood clot, cause bleeding of the site to reoccur, and prolong your healing time.
Tooth Extractions in Torrance, CA
When it comes to getting a tooth removed, Benjamin Yagoubian DDS, MD of Torrance Oral Surgery Center is who you want to see. His knowledge and expert skills provide patients with exceptional dental care day after day. If you need an extraction, give us a call. We look forward to meeting you.
Posted on behalf of Torrance Oral Surgery Center
23451 Madison St #120
Torrance, CA 90505
Phone: (310) 373-0667