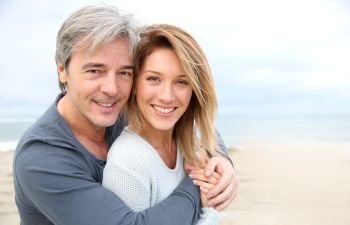 Dental implants allow for a precise and stable method of replacing single or multiple missing teeth. They are excellent at both restoring teeth and providing the function that was lost due to gaps and open spaces in your smile.
Implants are made from titanium, which makes them biologically compatible with your body, and much stronger than other prosthetic options. Torrance Oral Surgery and Dental Implant Center recommends seeing an oral surgeon who can work with the dentist to plan and execute your implant treatment.
What to Expect
Our oral surgeons use 3D scans of your mouth to plan out the placement of implants. This helps us to achieve the most optimal outcome for our patients and ensure the success of the implant itself.
There are times with implants where the bone or sinus lining may need to be augmented. If this should arise, having an oral surgeon looking after your treatment is very important. A surgeon is highly trained and skilled when it comes to more invasive procedures in the mouth, and will provide the added expertise needed when completing complex implant treatment in such special cases.
Something for Everyone
At Torrance Oral Surgery and Dental Implant Center, we specialize in finding options for patients with specific circumstances, who may have been told they are not suitable candidates for implants. The knowledge our surgeons have acquired from working with highly sensitive cases means you will be seen by our skilled and highly knowledgeable team.
If you're considering dental implants and are looking for more information, we would love to see you. Contact our office for a personalized consultation which will equip you with all the information you need to make the right decision.
Posted on behalf of Torrance Oral Surgery Center
23451 Madison St #120
Torrance, CA 90505
Phone: (310) 373-0667