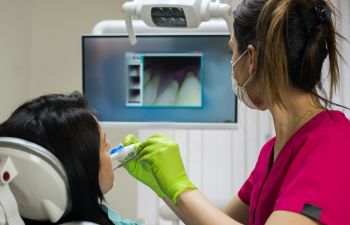 When people talk about oral surgery, a traumatic bone cyst is not something that is commonly discussed. In fact, most people have never heard of them until they are affected by one. What is a traumatic bone cyst and what are the treatment options available?
What is a Bone Cyst?
A bone cyst is a fluid-filled hole, or pocket, that develops inside of the bone. It is usually located between the canine tooth and the third molar, but can be seen in other areas of the jaw. This type of cyst often affects children and young adults with very little symptoms associated with it. It is not until an x-ray is taken, or in more serious situations involving jaw fractures, that the cyst is detected.
The cause of the cyst is usually unknown (trauma may be a risk factor) and is normally non-cancerous. Once it's treated, there is usually nothing to worry about.
Treatment Options for a Bone Cyst
If the cyst is small enough with no sign of progression, your dentist can choose to leave it alone and monitor it using x-rays. For more aggressive situations, there are two treatment options to consider:
Draining the fluid with a needle and injecting medication into the opening. This will help the bone to heal and may need to be repeated.
Surgery. The cyst is cleaned out and the pocket filled with a bone graft or platelet rich plasma/fibrin (PRF, PRP). The procedure is completed under anesthesia and normally takes a few months to a year for full recovery.
Trust the highly skilled team at Torrance Oral Surgery and Dental Implant Center to treat you and your family when specialized dental conditions such as a traumatic bone cyst occur.
Posted on behalf of Torrance Oral Surgery Center
23451 Madison St #120
Torrance, CA 90505
Phone: (310) 373-0667