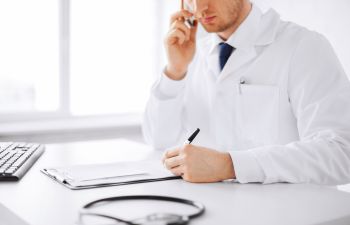 Having a tooth pulled leaves an opening in your bone and a large hole in your gums. The initial goal after having an extraction is to stop the bleeding and get a blood clot to form, which will fill in the newly created space. But if a blood clot doesn't form or it gets dislodged, you will develop what's called a "dry socket", which is extremely painful to deal with.
Caring for Your Extraction Site
Here are some tips to help you ensure that you get through your extraction with no bumps in the road.
How to Stop Bleeding

After your tooth is pulled, we'll place some gauze in your mouth and have you change it out as it gets soaked. Before placing in a new gauze, wet it a little bit with some water.

No Smoking

Don't smoke for a minimum of 24 hours after your extraction.

Don't Spit

To clean your mouth out, don't spit, instead, you should lean over a sink and let the saliva fall out of your mouth.

Drinking Beverages

Avoid carbonated drinks, hot beverages like coffee, and alcohol. Also, don't drink through a straw.

Rinse Your Mouth

The day after your extraction you can start rinsing your mouth several times a day with a warm saltwater mixture. Swish the solution gently in your mouth and let it fall out of your mouth without spitting.
Tooth Extraction in Newport Beach
If you experience any trouble after having a tooth pulled in Torrance, CA then call Benjamin Yagoubian DDS, MD of Torrance Oral Surgery Center. We'll get you taken care of right away and back on the road to recovery so that you don't have to suffer through a dry socket.
Posted on behalf of Torrance Oral Surgery Center
23451 Madison St #120
Torrance, CA 90505
Phone: (310) 373-0667