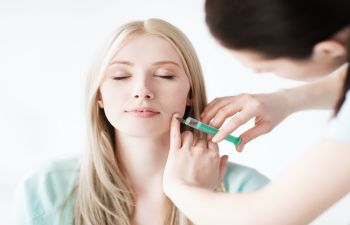 At Torrance Oral Surgery and Dental Implant Center, we offer more than just smile reconstruction and tooth replacement. A couple of the popular supplemental treatments we offer to our patients are facial fillers and collagen injections.
With cosmetic facial fillers, you can help create a fuller, smoother facial profile to look and feel your best. It can be used as a standalone cosmetic dentistry service, or in conjunction with procedures like dental implants. Since tooth loss can age your face prematurely, collagen injections and fillers help you to get back some of that lost fullness around your mouth, lips, and jawline.
When applied, products like Juvederm and Botox also aid in erasing the signs of line lines and wrinkles, creating the perfect "frame" for your new smile. We can place them throughout your face as well as around your eyes (for crow's feet or under-eye issues) and across your forehead.
And unlike our traditional oral surgery services, there's practically no downtime when you get a facial filler. You can get back to your normal routine ASAP. If you've never had a cosmetic injectable application like Botox, you'll notice the results gradually improve over the course of several days/weeks after the first treatment. But the more routinely it's used, the longer your results will last.
And of course, replacing your missing teeth is a great way to jump-start your "anti-aging" treatment, by restoring the support your facial tissues and surrounding structures. That's where our Torrance dental implants come into play!
So, which options are right for you? Schedule a no-pressure consultation at Torrance Oral Surgery and Dental Implant Center today to find out!
Posted on behalf of Torrance Oral Surgery Center
23451 Madison St #120
Torrance, CA 90505
Phone: (310) 373-0667