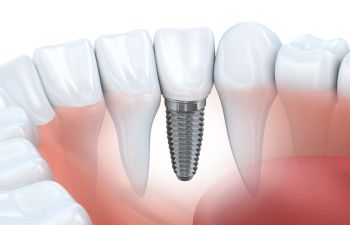 Dental implants are fast becoming the gold standard for replacing missing teeth. Implants are fixed permanent prosthodontics that are barely distinguishable from a natural tooth. Unlike dental bridges or removal partials, a single implant looks and feels like your natural tooth. Dental implants are also used to make bridges possible when there is need for an abutment tooth; and dentures secured by dental implants have many advantages over traditional removable dentures.
There is no doubt about the advantages of dental implants over traditional replacements. The question is, who should place the implant? Many general dentists are doing implant placements, as are oral surgeons. What difference does it make, and why should you opt for an oral surgeon over your general dentist?
Oral Surgeon Compared to General Dentist
Both the oral surgeon and general dentist spend years studying and training in the field of dentistry. Seven to eight years of education including dental training are required in order to earn a Doctor of Dental Surgery or Doctor of Dental Medicine degree (DDS or DMD, respectively.) These degrees are equivalent, and after passing the state licensing examination, allow the recipient to practice dentistry.
An oral surgeon specializes in dental surgical procedures and receives an additional four to six years of education and training in this area. While the oral surgeon has the expertise to do the same dental procedures as a general dentist, she or he agrees to limit the practice to the scope of oral surgery. In this way, the oral surgeon accumulates years of experience and skill in all things pertaining to surgeries of the mouth and jaw. Tooth extractions, both simple and complex, repair of broken jaw and facial bones, removal of cysts and tumors, realignment of the jaw, temporomandibular joint surgeries, dental cosmetic surgeries and dental implants are staples of the oral surgeon's practice.
A well-qualified general dentist is good at all the basic procedures in dentistry, and is perhaps very good in an area in which he or she decides to focus. A well-qualified oral surgeon is very good at all procedures requiring surgery, since they are performed on a routine basis. Additionally, an oral surgeon has the expertise and skill to handle unexpected complications that can arise during a surgical procedure.
Dental Implant Surgery and the Oral Surgeon
It is true that general dentists can and do place dental implants. With proper training, the simple implant, or Level 1 implant placement, can be performed with reasonable outcome expectations. With this being said, the results of a recent survey published in the Journal of the American Dental Association shows results that suggest dental implants placed by oral surgeons have higher success rates than the same procedures performed by general dentists. It should also be noted that overall, dental implants have a success rate of over 95%.
The basic implant placement is fairly straightforward when the bone is strong and healthy. When a bone graft is required or more than one implant is needed to support a bridge or denture, the risks for complications increase.
Precision in placement and calculation of the forces to which the implant will be subjected must be taken into consideration. An implant that is slightly off from optimum position can fail over time. Many oral surgeons have the experience in placing multiple implants on a regular basis, so the likelihood of misplacement is quite low.
The Safer Option
A general dentist who is professionally trained will most likely be able to adequately perform the simple dental implant procedure without incident. The oral surgeon has the training, expertise and experience to perform a wide variety of dental implant configurations. Additionally, the oral surgeon is well equipped to handle any emergencies or complications that may arise during the implant or, when required, bone grafting procedures.
If you are considering dental implants, we encourage you to contact Dr. Benjamin Yagoubian at the Torrance Oral Surgery and Dental Implant Center. Our experience, skill and dedication to excellence in patient-centered care and service assures you of the highest quality in dental care.
Posted on behalf of Torrance Oral Surgery Center
23451 Madison St #120
Torrance, CA 90505
Phone: (310) 373-0667