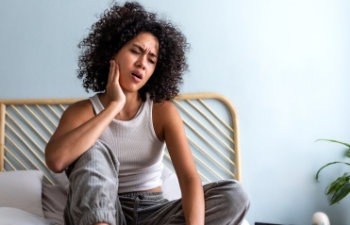 TMJ disorder (TMD) is a common but often misunderstood issue. If you've been experiencing jaw pain, clicking, or even earaches, it's essential to recognize the signs and symptoms of TMD.
What is TMJ Disorder?
Your temporomandibular joint (TMJ,) is the joint that connects to and moves your jaw for talking, eating, and even yawning. TMD, refers to a range of conditions that affect this joint and the surrounding muscles, causing pain or limiting your range of motion. It can result from various factors, including stress, teeth grinding (bruxism), arthritis, or an injury.
Symptoms of TMJ Disorder
Jaw Pain: One of the most common symptoms is persistent pain in or around your TMJ. It can be sharp or dull and may extend into your neck and shoulders.
Clicking or Popping: You may hear clicks or pops when you open or close your mouth.
Limited Jaw Movement: It's normal to experience difficulty opening your mouth or have a restricted range of motion.
Headaches: Frequent headaches, particularly in the temples or behind the eyes.
Ear Pain: Because the muscles around your TMJ are near your ears, you could feel pain there, too.
Facial Pain: Discomfort or tenderness in your cheeks, forehead, or temples.
Teeth Grinding: Bruxism often accompanies TMD.
Schedule Your Consultation Today
If you're experiencing any of these TMJ symptoms, it's important not to ignore them. At Torrance Oral Surgery and Dental Implant Center, our experienced team is here to help with minimally invasive therapies that reduce your need for TMJ surgery. Call us today!
Posted on behalf of Torrance Oral Surgery Center
23451 Madison St #120
Torrance, CA 90505
Phone: (310) 373-0667