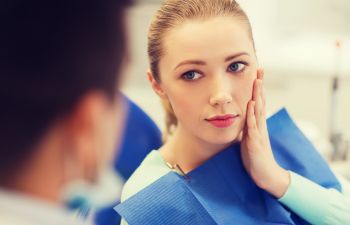 When having a tooth removed in Torrance, California, our oral surgeon extracts the roots from inside of the bone. Usually this is a simple procedure. Occasionally, there are impacted teeth, teeth that are severely decayed, or ones that have curved roots that are difficult to remove. In these instances, opting to perform a surgical extraction is the best solution for removing your tooth.
What Is A Surgical Extraction?
A surgical extraction means that rather than pulling your tooth out in one piece, it will be sectioned into smaller pieces for easier extraction. Often this means partial removal of the bone around the tooth as well. While doing so is necessary, it sometimes results in having small, loose bone fragments after the procedure.
What Is A Bone Fragment?
Bone fragments are little slivers of bone that can get left behind in the socket after a surgical tooth extraction. Ideally, the bone fragment works its way out as the area heals. But sometimes the bone gets caught in the gum tissue and the oral surgeon will need to remove it for you.
Signs That You Have A Bone Fragment
Having a bone fragment can range from mildly irritating to very painful, the sharp pieces that can cut the inside of your cheek or cause an ulcer on your tongue. Most people will call the office a few weeks after having a tooth removed, saying that they feel like there is still a piece of the tooth still there.
Tooth Extractions in Torrance, CA
If you need to have a tooth extracted and want a professional team that'll be there with you every step of the way, then call Torrance Oral Surgery Center. Benjamin Yagoubian DDS, MD, and his staff look forward to making your surgical extraction as simple as possible!
Posted on behalf of Torrance Oral Surgery Center
23451 Madison St #120
Torrance, CA 90505
Phone: (310) 373-0667