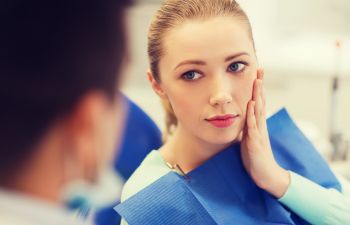 Wisdom teeth tend to be most noticeable during the high school and college years. However, it's not uncommon for late 20-somethings to also experience wisdom tooth pain.
How can you tell if your wisdom teeth are causing problems? Watch out for these common red flags:
You Notice Crowding in Other Teeth

As wisdom teeth develop, they may tilt into their neighbors. Gradually all of that pressure can push the other teeth together. In time, crowding and tooth movement is typically visible (especially at the front of the mouth.)

There's Pressure or Pain

Off-and-on pressure is fairly normal when you're starting to get your wisdom teeth. But if it's severe enough that you can't get through the day without pain reliever, or it just isn't going away, you probably need to have your wisdom teeth removed.

You're Having Trouble Opening/Closing Your Mouth

As wisdom teeth mature, they may alter the natural biting patterns and your teeth, which then affects how your jaws and surrounding tissues function.

Swelling Around Your Jaws

Inflammation and cysts can accompany the typical tooth eruption process. In some cases, that swelling can become severe.

The Tooth is Partially Erupted

When a small amount of tooth is visible through the gums, it invites food debris, plaque, and bacteria into that area (and can be next to impossible to clean.)
Wisdom Tooth Consultations
If you have a teen who is experiencing any of the above-mentioned wisdom tooth symptoms, it's best to go ahead and schedule an oral surgery consultation. During the exam we can let you know whether the wisdom teeth are causing any complications and if removal is recommended.
Contact Torrance Oral Surgery and Dental Implant Center today to reserve an appointment.
Posted on behalf of Torrance Oral Surgery Center
23451 Madison St #120
Torrance, CA 90505
Phone: (310) 373-0667