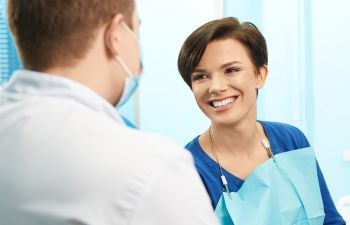 After your oral surgery is successfully completed, the next step is to properly care for your mouth at home. With the guidance of the team at Torrance Oral Surgery and Dental Implant Center, you can rest assured you'll experience a successful recovery with these postoperative care tips.
Post-Surgical Instructions
There is no need to feel nervous about managing symptoms after an oral surgery. Be sure to follow our written home care instructions provided at your appointment.
You may expect some bleeding from the surgical area. You will need to maintain pressure over the area by biting down on gauze until the bleeding has stopped. Replace the gauze when saturated, or every 30-45 minutes.
Swelling and bruising of facial tissue or inside your mouth is normal. Apply an icepack to the area in intervals of 15-20 minutes at a time to help reduce inflammation.
Discomfort will vary from patient to patient. Our surgeon can prescribe appropriate medication, if necessary, but the use of Ibuprofen or Advil every 6-8 hours should ease the discomfort.
Take it easy your first day home. Avoid excessive activities or any rigorous exercise.
Eat a nourishing soft food diet and getting plenty of liquids. It's important to adjust your diet the first few days.
Avoid disturbing the healing blood clot to help prevent a dry socket. Do not drink from a straw, smoke, or drink alcohol until the surgical area has started to heal. Brush your teeth gently around the areas not involved in the procedure. Instead of spitting, allow the water and toothpaste to flow out of your mouth into the sink.
Don't hesitate to contact us if you experience concerning symptoms once you return home!
Posted on behalf of Torrance Oral Surgery Center
23451 Madison St #120
Torrance, CA 90505
Phone: (310) 373-0667