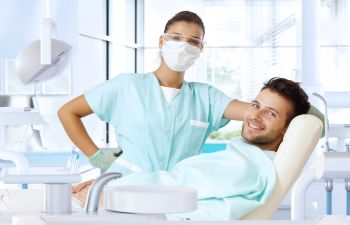 Buck teeth. Having them is a cute right-of-passage for sine kids. But if you never outgrew your buck teeth, then you might not feel so cute anymore. Having upper front teeth that stick out can make you want to hide your smile behind your hand.
Sometimes, buck teeth are just a tooth alignment issue that's easily corrected by braces.
But other times, buck teeth aren't a problem with your teeth at all. Instead, your jaw itself could be to blame.
Buck Teeth and Jaw Shape
Upper front teeth might stand out more because the lower front ones are simply positioned too far back. The resulting horizontal gap can create a strange profile and cause difficulty when biting into sandwiches, pizza, and tacos.
The ultimate reason for this discrepancy? A lower jaw that is too small or too short.
This kind of problem isn't fixable with braces. It usually involves jaw surgery. During the surgery, your jaw is extended to bring it out into healthy alignment, so that your upper and lower teeth line up correctly. Therefore, eliminating the buck-tooth effect.
Benefits of Jaw Surgery to Fix Buck Teeth
Relieve jaw pain
Chew with ease
Speak more clearly
Get rid of that snore you may have (due to a short jaw that causes your throat collapse)
A more proportionate profile
Reduced enamel wear, since your teeth will line up more evenly
Jaw Surgery in Torrance
Dr. Yagoubian is a Torrance oral surgeon who's skilled in providing safe and comfortable jaw surgery. To find out if oral surgery could be the key to removing your buck-toothed look and getting a beautiful and functional smile, contact our team to schedule an evaluation.
Posted on behalf of Torrance Oral Surgery Center
23451 Madison St #120
Torrance, CA 90505
Phone: (310) 373-0667