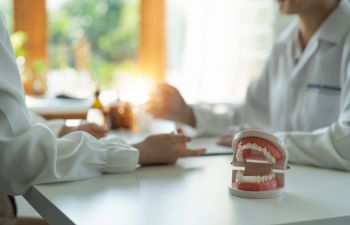 It's not uncommon for people to lose teeth at different stages of their lives. Sometimes it is just a single tooth; at other times it can be multiple teeth that are lost. Having an incomplete smile does not have to be where things end. Torrance Oral Surgery and Dental Implant Center offers different options for our patients while providing quality care. Dental implants or dentures are just two ways to restore your smile.
Dental Implants
Dental implants have quickly become the first choice of patients and dentists alike. Implants are the closest to replicating your natural teeth once a tooth has been lost. Using our 3D scanner, we can design and precisely place a dental implant for you.
Since it's anchored into the bone, an implant is completely stable and able to withstand the force of chewing without shifting out of place. Implants are very comfortable and require little adjustment time, which may be required sometimes with dentures. Dental implants also help to promote bone growth in the area where a tooth has been missing and provide a very natural facial structure.
Dentures
Dentures, whether partial or full, are also an option for patients with missing teeth. Dentures can be removable or anchored in by implants. Although dentures are custom-made, they can run the risk of being a bit bulky. Most patients usually need time to adjust to dentures and may not feel as comfortable out in public for the first few weeks.
Depending on your situation, our dentist will need to assess you to see if you are a proper candidate for either implants or dentures.
Schedule your no-obligation consultation at Torrance Oral Surgery and Dental Implant Center today!
Posted on behalf of Torrance Oral Surgery Center
23451 Madison St #120
Torrance, CA 90505
Phone: (310) 373-0667