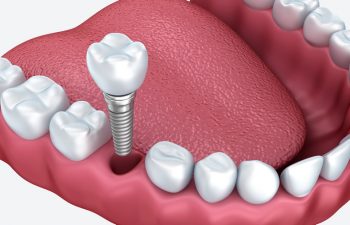 Dental implants are one of the best ways to replace missing teeth. But even though they are considered the standard treatment, a lot of people still have questions about this "modern" technique.
How long do dental implants last?
Today's dental implant designs are made in such a way that they can last for the rest of your life. To keep them well integrated with the bone, it's important that you brush and floss around them daily. Regular checkups are also important.
Does it hurt to get dental implants?
Getting implants is gentler than most people expect. Only a small amount of local anesthetic is needed in most cases. However, sedation is also available for your comfort if you prefer to nap through the procedure.
Are dental implants better than bridges or dentures?
Yes. Dental implants are the only permanent, non-invasive tooth replacement available today. They are safer for adjacent teeth and help promote good overall oral health.
What type of "teeth" can I put on top of dental implants?
Since implants only serve as the "root" portion of your new tooth, you'll need a crown, bridge, hybrid appliance, or denture to go on top of them. We can tailor exactly how you want your new smile to look.
How many implants do I need?
If you're only missing one tooth, you'll only need one dental implant. But since implants are so strong, we can use as few as 4-6 of them to anchor a full-arch prosthesis!
Dental Implants Near Me
Torrance Oral Surgery and Dental Implant Center offers comprehensive dental implant treatments for people of all walks of life. Contact us today to learn more.
Posted on behalf of Torrance Oral Surgery Center
23451 Madison St #120
Torrance, CA 90505
Phone: (310) 373-0667