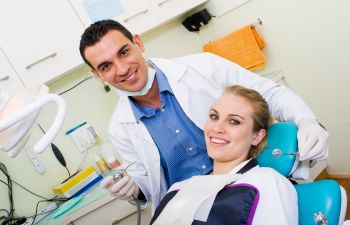 "Cuspids" or "eye teeth" are frequently referred to as canines. Each of us have four, with one at each corner of our mouth. Unfortunately, around 2% of dental patients will experience an unwanted scenario where their canines can become impacted or partially impacted above their other teeth. It's not uncommon to see the canine attempt to erupt far above the other teeth, simply due to a lack of space.
An impacted canine is usually due to lack of space, crowding, or premature tooth loss. For instance, if your child lost their primary (baby) canine too early, the teeth on either side may have closed together and restricted the spacing for an adult tooth to replace it.
Treatment for an impacted canine usually involves a combination of minimally invasive oral surgery and orthodontic therapy. The two-specialty process is coordinated between your providers for a seamless approach. Typically, we will see your child to create an opening in their tissues and uncover (expose) the canine embedded inside of the mouth. From there, your orthodontist will affix an orthodontic appliance to physically guide the tooth down toward the other teeth.
The most important facet of treating impacted canines is to address the situation early. Otherwise, you'll reach a point where treatment becomes less effective. Especially since eye teeth have some of the longest roots of all teeth in the mouth.
Need a Professional Opinion?
Even if you're not currently seeing an orthodontist, our oral surgery specialists can evaluate impacted canines and guide you through the next steps to take.
If your child has delayed tooth eruption or canines erupting too high in their mouth, call Torrance Oral Surgery and Dental Implant Center to reserve an exam.
Posted on behalf of Torrance Oral Surgery Center
23451 Madison St #120
Torrance, CA 90505
Phone: (310) 373-0667