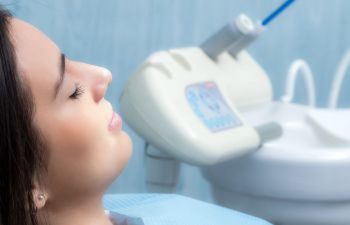 What if you could tap into your body's own natural healing abilities after oral surgery? Thanks to advancements with Platelet Rich Fibrin — or "PRF" — you can.
PRF technology uses your body's own blood platelets and healing processes to jump-start the recovery process at surgical sites. Although it sounds complicated, it really isn't. A vial of blood is drawn and placed in a centrifuge, which spins the blood and separates your platelets and leukocytes (which help repair tissues) causing them to release a fibrin matrix. This matrix is separated from the rest of the blood during the time in the centrifuge. Then, our Torrance Oral Surgeon can place the fibrin back into your body at the site of the surgery.
Once fibrin is placed back into your body, it's proven to:
Lower the risk of post-operative swelling
Accelerate healing and recovery times
Reduce the chances of dry socket
Improve comfort
We can incorporate PRF into routine wisdom tooth extractions, cyst/tumor removal, and other forms of oral surgeries. That way instead of taking off more time from work or school to recover, you can see significant improvement within a matter of days. It's one of the best and safest ways to naturally speed up your body's ability to heal.
PRF treatments are effective and FDA approved, meaning that they're extremely safe for our oral surgery patients. The process adds very little time to your already scheduled surgical procedure and we can typically draw the blood from the same line that your IV sedation will be administered into.
For more information on PRF, call our experienced Torrance oral surgery practice.
Posted on behalf of Torrance Oral Surgery Center
23451 Madison St #120
Torrance, CA 90505
Phone: (310) 373-0667