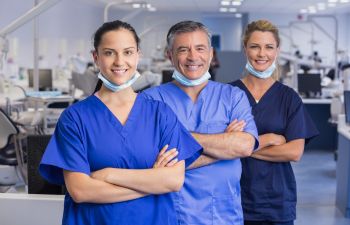 Planning an oral surgery means adjusting your schedule, giving yourself plenty of time to recover, and even taking time off from work or school at times. What should you usually expect when it comes to down time and recovery following dental surgeries such as wisdom tooth removal or dental implant placement?
Take it Easy the First Day
Every oral surgery appointment will involve some local anesthetic medication to numb your mouth. Most anesthetic takes at least a few hours to wear off. You don't want to eat anything too hot or bite down on your lips/cheeks unexpectedly. It's best to stick to a soft diet at the beginning.
Recovery Ranges from a Few Days to a Couple of Weeks
Major oral surgeries such as wisdom tooth removal can take 10-14 days before you're completely recovered. But something like a dental implant placement may only leave you with tender gums for a day or two. Torrance Oral Surgery and Dental Implant Center will give you a realistic timeline to expect, prior to scheduling the actual procedure. Each situation is extremely different.
Managing Post-Surgical Discomfort
Advanced technology and minimally invasive techniques help you enjoy the most comfortable oral surgery experience possible. You may only need something like ibuprofen and a cold compress to minimize inflammation and help you get back on your feet. But if you're more sore or nauseous (due to general anesthesia) we can also send you home with a prescription for stronger medications to have on hand if you need them. The top priority is to minimize inflammation/swelling, as it's the most common cause of post-surgical discomfort.
Your Comfort is Important to Us
Torrance Oral Surgery and Dental Implant Center is committed to ensuring a positive experience for each of our patients. Call us today!
Posted on behalf of Torrance Oral Surgery Center
23451 Madison St #120
Torrance, CA 90505
Phone: (310) 373-0667