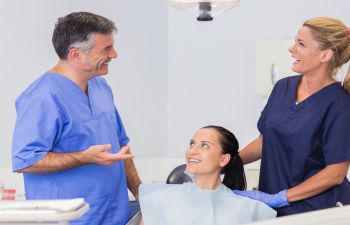 Is it "worth it" to use an oral surgeon? Here are four things you need to consider:
Advanced Training, Skill, and Experience

An oral surgeon is an advanced oral health specialist who is equipped with years of additional education and expert training in involved medical procedures. Often times, they train right alongside of medical doctors, as they are specialized in surgical procedures related to the head and neck.

Access to State-of-the-Art Technology

From platelet rich fibrin (PRF) treatments to 3D CT (cone-beam) scanning, our oral surgery office is equipped with the resources necessary to provide minimally invasive, quality treatments and predictable recoveries. Thanks to advanced resources, these investments allow our patients to see improved results with minimal downtime.

Enhanced Safety and Comfort

In addition to intensive training and resources, our oral surgery clinic is able to provide medical level sedation and surgical care within the scope of our practice. There is no need to visit an offsite surgical facility or hospital for your procedure. Each of our practitioners and staff is highly trained and licensed to provide the exceptional care you need with the added peace of mind you depend on.

Your Oral Health Concierge

An oral surgeon wears multiple hats. Between working with your private dentist to facilitate dental implants to partnering with an MD for oral cancer therapy, we facilitate a higher-level of care that spans between the fields of dentistry and medicine. As such, we work closely with your other care providers to ensure you receive comprehensive treatments without anything slipping through the cracks.
Call Torrance Oral Surgery and Dental Implant Center today to reserve your first appointment.
Posted on behalf of Torrance Oral Surgery Center
23451 Madison St #120
Torrance, CA 90505
Phone: (310) 373-0667