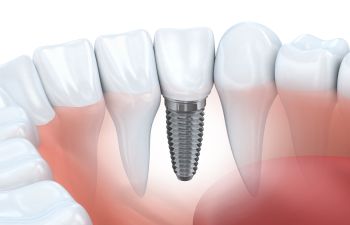 Dental implants are a special type of restoration that mimics the structure of a natural tooth. They replace the teeth that have been damaged from decay or broken beyond repair.
#1 Prevent Tooth Shifting
If a tooth is beyond saving and has to be removed, replacing the tooth with a dental implant is vital in preventing a gap. If gaps are left, the surrounding teeth will shift to fill the vacant one. This movement can cause problems with the alignment of teeth and can lead to joint pain. Filling the space with a dental implant will prevent the adjacent teeth from moving into the open area.
#2 Preserve Bone
Where teeth are missing, bone begins to deteriorate. The lack of support impacts the other teeth. Unwanted bone loss can bring about facial sagging that gives an older-looking appearance. Dental implants keep the gums bone, allowing natural bone integration in the area to fill out your facial features.
#3 Non-Invasive to Other Teeth
Dental implants can replace just one tooth at a time and stand independently of other teeth. Unlike bridges, which require healthy teeth to be altered to support them.
#4 They're Like Having Natural Teeth
Treat dental implants just like normal teeth. Continue to follow good oral hygiene habits, brush at least twice a day, and floss once a day. One big advantage of dental implants is that they restore full chewing power. You can eat completely normal without taking smaller bites or eating softer foods. They're the only restoration modeled after anatomical teeth.
Are Dental Implants Right For You?
Call Torrance Oral Surgery and Dental Implant Center today to find out.
Posted on behalf of Torrance Oral Surgery Center
23451 Madison St #120
Torrance, CA 90505
Phone: (310) 373-0667