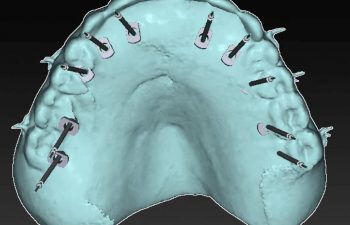 Creating a dental implant is a complex process, but it is made easier and more precise with the use of digital technology. Before the dental implant can be created, or the surgical procedure can be planned, it is necessary to create impressions of the teeth and take images of the teeth, tissues and jaw to determine the surgical guide for the procedure. Dr. Yagoubian at Torrance Oral Surgery uses advanced digital technology to create 3D precise digital surgical guides for dental implant creation and placement.
3D Intraoral Scanner for Digital Impressions
To create a dental implant, an impression or "mold" needs to be taken of the teeth. Before digital technology, molds for teeth were created by having patients bite down on an oral tray filled with a plaster-type material until a physical impression or mold was created. This method is no longer needed – a more precise and accurate 3D digital impression can be created in minutes using a 3D intraoral scanner.
Part of the process of creating 3D digital surgical guides for dental implant placement includes creating a digital impression. Dr. Yagoubian uses the Itero 3D intraoral scanner to take digital images of the teeth. This is much more comfortable for the patient than creating a physical impression of the teeth – the 3D intraoral scanner is a small, hand-held device that can be maneuvered inside the mouth to take digital images. The images appear on a digital screen in full color. Dr. Yagoubian can show these images to his patients to discuss what will need to be done to complete their dental implant procedure.
3D Digital Surgical Guides for Dental Implant Placement
Creating a digital impression with the 3D intraoral scanner is the first step in completing the 3D digital surgical guide for dental implant placement. The second part is a CT scan of the teeth and jaw. These two digital images are stitched together to create a complete picture of the teeth, bone and tissues in 3D form. This 3D picture is what is used to create the dental implant shape and is the surgical guide for the procedure.
Digital 3D imagery and technology are integral to creating precise dental implants and performing accurate placement. To learn more about the advanced methods used by Dr. Yagoubian for durable, natural-looking dental implants and precise surgical placement, contact our team at Torrance Oral Surgery.
Posted on behalf of Torrance Oral Surgery Center
23451 Madison St #120
Torrance, CA 90505
Phone: (310) 373-0667